Reinhold Ostler aus Finning
Germany´s Treasure Hunter

#

1

a

nd

author of several successful books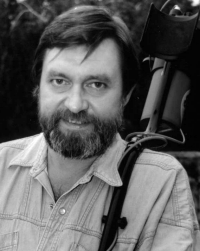 After severe illness, Reinhold Ostler died on Saturday, 7th of August 2010, leaving behind his wife and his two daughters. Reinhold called treasure hunting into being in Germany.

Thank you Reinhold for your friendship and the year long co-operation.

We will always remember you...

ARO

Reinhold Ostler is known as the "Pionier of Treasure Hunting" in Germany. With his "

Handbuch für Schatzsucher", he started 1986 a run for hidden treasures. Also he started to be interessted in treasure hunting after reading a book. In 1975, he found a book titled "Da liegt Gold". The chapter about Cocos Island near Costa Rica caused his treasure hunting virus. Six years later, he started his first expedition to Cocos Island with a 7 week search for the legendary treasures of Lima and of pirat Bonito. Other expeditions to Cocos Island and other locations followed...

He got a closer contact to the Amber Room by meeting K.A.K.T.U.S. founder Henry Hatt, who works at the slate mines in South East Thuringia. Ostler supports his theories and helped with investigations. Ostler believes that Hatt´s collected hints are the far best version of the remain of the lost Amber Room, because the author and treasure hunter Hatt told him several things that have not been published yet.

Special thanks from the Amber Room Organisation for your support and help in clearing
some of the mysterious events in the slate mines of South East Thuringia.